Whitefish Review Releases Issue #16,
The Geography of Hope
Dec. 13 Launch Event Features Author and Scientist Cristina Eisenberg
Whitefish, Mont. (Dec. 8, 2014) — Whitefish Review has announced the publication of its 16th issue, "The Geography of Hope." The 160-page art and literary journal will be released on Saturday, Dec. 13, with a reading by author and scientist Cristina Eisenberg, who served as the lead editor for this issue. The event is hosted at Casey's in downtown Whitefish. Doors open at 7 p.m. and the reading begins at 8 p.m.
"I continue to be astounded by the depth of the team of editors and readers we have been fortunate to bring together for this creative endeavor," said founding editor, Brian Schott. "With Cristina leading the vision, 22 editors worked on this issue, reviewing more than 500 submissions to feature gorgeous interpretations of The Geography of Hope. The issue also features a conversation with author William Kittredge, offering perspectives on hope, generosity, prospect, and refuge."
In 1960, eminent American writer Wallace Stegner sent a letter to the US federal government in which he advocated creating formally protected wilderness, via what would become the 1964 Wilderness Act. In this now famous letter he wrote, "We simply need that wild country available to us, even if we never do more than drive to its edge and look in. For it can be a means of reassuring ourselves of our sanity as creatures, a part of the geography of hope."
Cristina Eisenberg
"This issue of Whitefish Review is a tribute to our American ideas about our need for open landscapes and places where nature-and humans-can run wild," said Eisenberg. "In addition to celebrating protected wilderness, in this issue we celebrate the wilderness deep within us and the hope we can draw from wild places. With evocative words, powerful images, and even howls and growls, the writers and artists who contributed to this issue celebrate our inner geographies: places we call home, places we love, the landscapes of our dreams that feed our souls."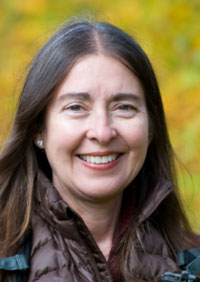 Eisenberg is an ecologist and the Lead Scientist at Earthwatch, USA. In her ecological research, she focuses on wolves and fire in Rocky Mountain ecosystems. She will read from her second book, The Carnivore Way, which was published by Island Press in May 2014.
The cover of the new issue features the painting "Frenzy," an acrylic on birch panel of a charging deer, its antlers aflame, by Portland, Oregon artist Josh Keyes. Bigfork, Montana artist Lael Gray's "Birdseye View of the Flathead" is featured on the back cover.
The winner of the Rick Bass/Montana Prize for Fiction is also featured in this issue. Author Carolyn Flynn from Albuquerque, New Mexico was selected from among 150 submissions to the contest as the winner of the $1000 prize for her short story, "Pretend." Rick Bass said, "'Pretend' is built of a confidence of sound, tone, rhythm, and heart."
Spring Wagon String Band will perform both before and after the featured readings, which will include a slideshow of the art and photography in this issue, as well images from Eisenberg's carnivore research across the planet. Members of Whitefish High School's Project Freeflow will also read short student pieces, sharing thoughts on their work in local watersheds and what "The Geography of Hope" means to them.
Whitefish Review is a non-profit journal publishing the literature, art, and photography of mountain culture. As a recognized 501(c)(3) tax-exempt corporation created for the public good, it is supported by generous donations, grants, and subscriptions.
The evening is sponsored in part by a grant from The Whitefish Community Foundation. A $10 suggested entry donation is requested to help with publication costs of the journal. A 2014-15 season pass at Whitefish Mountain Resort will also be raffled to raise additional funds. Visit www.WhitefishReview.org for more information.
###