Whitefish ReviewHosts Author David James Duncan for Release of "The Wild Issue" on June 2, 2012
Duncan is joined by author Brooke Williams, poets Neal Brown, Max Hjortsberg, Ron McFarland, and Meliss Clark, plus 13-year-old first time author, Sarah Ward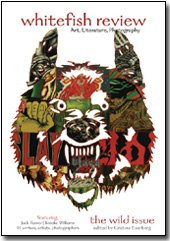 WHITEFISH, Mont. (May 23, 2012)— Author David James Duncan will headline a reading for the launch of Whitefish Review issue #11—"The Wild Issue"—on June 2, 2012 at The Lodge at Whitefish Lake, outside under the waterfront tent pavilion. Live music, a silent auction, appetizers and drinks will complement the readings. There is a $10 suggested entry donation, but all are welcome.
Duncan is the renowned author of the novels The River Why and The Brothers K. His work has won three Pacific Northwest Booksellers Awards, three Pushcart Prizes, a Lannan Fellowship, the Western States Book Award for nonfiction, and a National Book Award nomination.
"For our wild issue, we asked for submissions that explore the untamable and wild in astonishing ways, and we got an avalanche of them," said issue #11 lead editor, Cristina Eisenberg. Eisenberg is an ecologist, writer, editor, and the author of The Wolf's Tooth (Island Press, 2010). She is currently at work on her second book about large carnivore conservation in the American West and recently completed her doctorate in forestry and wildlife at Oregon State University.
"Together the editorial team bushwhacked through many hundreds of submissions, the most we have received for any issue thus far," said Eisenberg. "We sifted through two hundred images alone to assemble the magnificently edgy art that explores wildness in all its incarnations and paradoxes." The journal includes an expanded 16-page color art section and the cover image is a quilt of a wolf stitched together from old heavy metal t-shirts by artist Ben Venom.
Editors selected 44 artists and writers to create the collective narrative for the first issue that has focused on a single theme. #11 also features the fifth installment of the "Conversations" series, pairing environmental writer, Brooke Williams and philosopher, legendary climber, and essayist, Jack Turner as they candidly discuss why wildness is essential to human survival as a species today.
"We were particularly impressed with the quality of submissions for this issue," said founding editor and publisher, Brian Schott. "With so much interest, we've expanded the size of the journal to 180 pages. I think that our take on 'wild' will surprise readers. As we worked to create the aesthetic for this issue, we pushed beyond wild 'nature' and looked for expanded definitions and art that ran the spectrum of 'wild'–pushing the limits of what creative folks are able to do with words and images."
In addition to stunning art and photo submissions (like snails that eat paper to create art or a provocative view into the belly of a moose) essays, fiction and poetry span the serious (like insights on mountains and Zen Buddhism and a return to childhood's life lessons learned while fishing), to those that go beyond conventional bounds (such as the hazards of urinating in a wild place, the human body as a potential feast, or a luminous paean to roadkill). Whitefish Review also presents a local 13-year old writer, Sarah Ward, with her first published essay about someone who profoundly shaped her world.
"In addition to publishing and presenting the work of established authors, we are dedicated to encouraging and nurturing younger writers," said Schott. "Our editors take great pride in discovering fresh talent and playing a role in their growth as artists."
The evening also showcases author and contributor Brooke Williams from The Great West Institute and poetry performances by Neal Brown, Max Hjortsberg, Ron McFarland, and Meliss Clark.
A silent auction of artwork and guided adventures, including the opportunity to bid on a trip to join Eisenberg in the field for her wolf research, will kick off the evening at 6 p.m., including appetizers and drinks, with live music by David Noftsinger. Readings begin at 7:30 p.m. followed by The Maw Brothers, who have fiddled their way to the top spot in fiddle contests from Montana to Nashville including first place wins at the National Old Time Fiddle Contest.
Whitefish Review is a nationally-acclaimed, non-profit literary journal created to publish the distinctive literature, art, and photography of mountain culture. The soft-cover journal is published twice yearly and has included distinctive Western voices–some famous, like John Irving, Tom Brokaw, and William Kittredge–some less well-known, but equally talented. Pieces include original prose, interviews, and poetry, interspersed with photography and art, all of it celebrating the best of mountain culture.
Copies of Whitefish Review are available in bookstores across Montana and the Mountain West and online at www.WhitefishReview.org. Cost is $12, with back issues and subscriptions also available. All donations are tax deductible. For more information, visit the web site or call (406) 261-6190.
Details at a Glance:
Whitefish Review Issue #11 Launch ? The W I L D Issue!
… … … … … … … … … …
when: Saturday, June 2, 2012, 6-11pm
where: The Lodge at Whitefish Lake
readings: begin at 7:30pm
… … … … … … … … … …
Come early to bid on silent auction items, listen to David Noftsinger's wild musical riffs & get your copy of The WILD Issue-#11. Featured Speaker: DAVID JAMES DUNCAN, (author of the novels The River Why & The Brothers K).
Poetry: Neal Brown, Max Hjortsberg, Ron McFarland, Meliss Clark
Essays: Author Brooke Williams & new writer 13-year old, Sarah Ward
Live music by The Maw Brothers (National Fiddle Champions). Event is outdoors under the waterfront tent pavilion.
$10 suggested entry donation.
Sponsored in-part by The Whitefish Community Foundation and The Lodge at Whitefish Lake.
###