Whitefish Review Hosts Author Pam Houston for Release of Lucky #13 Issue
Literary Journal Takes a Look at Luck, Fate, and the Gamble of Art
Whitefish, MONT. (May 24, 2013) &emdash; Author Pam Houston will read from her new novel Contents May Have Shifted to launch Whitefish Review's Lucky #13 issue at the Lakeshore Tent Pavilion at The Lodge at Whitefish Lake from 7-10 p.m. on Friday, June 7.
Issue #13 Launch
 Lakeshore Tent Pavilion at The Lodge at Whitefish Lake from 7-10 p.m. on Friday, June 7
Houston served as the guest editor for the Review's 13th issue that features 41 writers, photographers and artists selected from more than 600 submissions. Review editors chose work that mined the borderlines where luck and its close cousins: fate, faith, chance and magic, intersect.
"Whitefish Review is one of the few publications I read cover to cover," says author Tim Cahill. "It's that good. Luck has nothing to do with it."
"The writers in this volume took the subject of luck and ran with it to its very outer limits," says Houston. "To a place where faith and fate and forgiveness triangulate. To an age where there is no good luck or bad luck, but only what happens to you and how you make it through."
Houston is the author of two collections of linked short stories, Cowboys Are My Weakness and Waltzing the Cat; the novels, Sight Hound and Contents May Have Shifted; and a collection of essays called A Little More About Me, all published by W.W. Norton. Her stories have been selected for volumes of Best American Short Stories, The O. Henry Awards, The Pushcart Prize, and Best American Short Stories of the Century.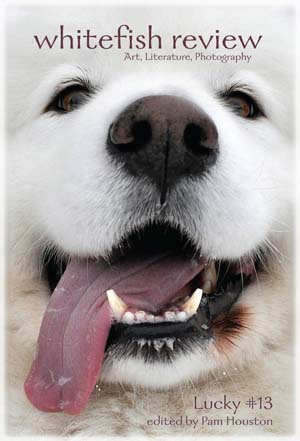 The cover of #13 features a photograph by 14-year old Ashley T. who started photography classes with the Youth Image Project in April 2012, a Whitefish non-profit. The after-school arts program empowers at-risk teenagers by providing photographic training where they can share their personal vision, expand their skill sets, and advance their life opportunities.
Among work by authors and artists both new and established, #13 also features a conversation with Pam Houston and author Tom McGuane, as they discuss literature, luck, and the life of the writer.
"We won the jackpot when Pam accepted our invitation to guide the Whitefish Review team on our 13th journey," said founding editor Brian Schott. "I feel humbled by the interest in our project and I'm in awe of the subtle, brave takes on luck that our writers and artists have shared with us."
Cocktail hour begins at 7 p.m. At 8 p.m., readings begin with Chrysti the Wordsmith, young poet Annika Gordon, author Shann Ray, and Pam Houston. Annika Gordon is a freshman at Whitefish High School and will share her first published poem. A short discussion with the authors moderated by Montana Public Radio's Chérie Newman will conclude the evening, with book signings to follow.
Shann Ray's story collection American Masculine (Graywolf Press) is an ensemble of stories set primarily in the small towns and reservations of Montana. It was the winner of the American Book Award, named by Esquire as one of "Three Books Every Man Should Read," and selected by Kirkus Reviews as a Best Book, Best Short Story Collection, and Editor's Choice selection.
Chrysti M. Smith is a featured speaker for the Montana Committee for the Humanities' Speakers Bureau and host of Chrysti the Wordsmith, a daily, two-minute audio interlude produced in the studios of KGLT-FM at Montana State University, Bozeman. Since 1990, Chrysti "the Wordsmith" Smith has been plumbing the depths of dictionaries obscure, arcane and pedestrian to craft word and phrase histories for her radio audience.
Chérie Newman is a writer and radio producer in Missoula. Her articles and book reviews have been published in magazines across the West. Her weekly literary program for public radio stations–The Write Question–is broadcast in Montana, Washington, and Colorado, through the Public Radio Exchange (PRX.org), and available as a podcast through the Montana Public Radio Web site (MTPR.org).
Founded in 2007, Whitefish Review is a nationally-acclaimed, non-profit journal publishing the distinctive literature, art, and photography of mountain culture. Featuring established and emerging authors and artists, it weaves a diverse mix of stories, interviews and conversations along with a 16-page color art section. It is published twice a year, in December and June. As a recognized 501(c)(3) tax-exempt corporation created for the public good, it is supported by generous donations, grants, and subscriptions.
The evening is sponsored by The Montana Arts Council,Whitefish Community Foundation, Jest Gallery, Whitefish Mountain Resort, Good Medicine Lodge, The Lodge at Whitefish Lake and the wonderful donors of Whitefish Review.
For more information email editor@whitefishreview.org or call (406) 261-6190.
###